Stratis Gayner Plastic Surgery
10 Capital Drive #100
Harrisburg, PA 17110
Phone: (717) 728-1700
Tuesday, Thursday: 8 a.m.–4 p.m.
Wednesday: 8 a.m.–5 p.m.
Friday: 8 a.m.–3 p.m.
Phones are open 8 a.m.-5 p.m. every day

BOTOX® Cosmetic in Harrisburg, PA
Women and men visit Stratis Gayner Plastic Surgery for BOTOX Cosmetic injections in Harrisburg, PA, because these quick, simple treatments help them look naturally fresher and younger without surgery. Come in on your lunch break and see why millions of BOTOX treatments have been performed with excellent results.
Board-certified facial plastic surgeon Dr. Scott Gayner is the only doctor in the Central Pennsylvania area to earn BOTOX Platinum Plus provider status. This is one of the highest tiers to accomplish and indicates that he performs a high volume of injections—which also indicates that he has a great deal of experience with the treatment. In fact, Dr. Gayner is a trainer for Allergan (the maker of BOTOX, JUVÉDERM VOLUMA®, and VOLBELLA®), helping other physicians on the Eastern Seaboard with their techniques to maximize cosmetic results and patient safety when using the manufacturer's various injectables.
What Can BOTOX Cosmetic Do for You?
BOTOX Cosmetic helps people from York and Lancaster, PA, and other nearby cities smooth away "dynamic wrinkles" on the upper parts of the face, which are caused by the repetitive contraction of facial muscles over time. Common concerns that can be corrected with BOTOX Cosmetic include:
Forehead lines that span across the forehead (commonly known as worry lines or expression lines)
Frown lines between the eyebrows (popularly known as the "11s" )
Crow's feet around the outer corners of the eyes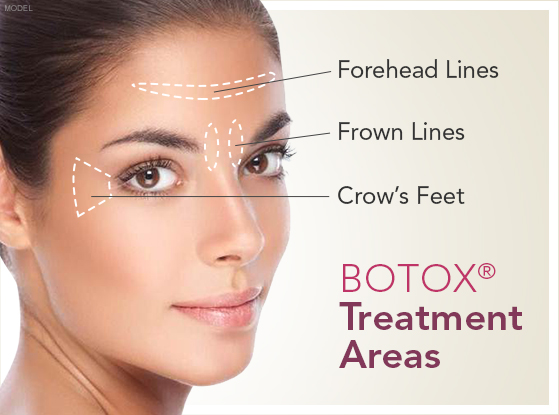 BOTOX is the first FDA-approved treatment that can temporarily soften the appearance of both moderate-to-severe frown lines between the brows and crow's feet lines in adults.

Does BOTOX Work on Men?
It's not just for women.
BOTOX is one of the leading procedures requested by men, with hundreds of thousands of injections performed. The treatments can restore a look of youth and vitality to men who want to turn back the clock and feel more confident in professional or social situations.
How Does BOTOX Work?
BOTOX is a safe injectable treatment that works by relaxing facial muscles that contract, wrinkle the skin, and eventually cause dynamic wrinkles. Once injected into these muscles, BOTOX causes them to stop contracting, preventing them from forming the telltale wrinkles.
Wrinkles occur through a combination of factors. Changes occur at the cellular level, our skin loses collagen, and prolonged exposure to the sun and other environmental factors also takes its toll. But muscle movements in the face are also responsible for certain wrinkles. When an individual is anxious or focused, the muscles in the forehead and between the brows tend to contract, causing the skin to fold and furrow. When squinting to better observe something, the muscles around the eyes contract, resulting in crow's feet.
A Focus on
Facial Plastic Surgery
Board-certified facial plastic surgeon Dr. Scott Gayner has extensive specialized training in facial surgery and is at the forefront of innovative facial rejuvenation techniques.
Read More
What To Expect
Beginning with a consultation, Dr. Gayner will discuss your treatment goals and perform a facial analysis to determine the right areas of treatment.
Once you are comfortably settled and ready, Dr. Gayner administers several tiny injections of BOTOX directly into the muscles that cause your dynamic wrinkles. Many patients at Stratis Gayner have said that an injection of BOTOX can feel like a small pinch, and while no anesthesia is required, you may choose to have Dr. Gayner to numb the area with a cold pack or topical anesthetic cream prior to the injection.
The actual procedure can take as little as 10 minutes, so you don't need to worry about making a huge dent in your schedule.
How Long Is Recovery From BOTOX?
No downtime is needed. BOTOX is well-known for being a "lunchtime procedure," as patients can resume their regular activities immediately after a treatment session. Any discomfort after BOTOX injections is usually very slight and limited to redness, swelling, or bruising at the injection site.
How Long Before You See the Results of BOTOX?
You may notice an effect within 24 to 48 hours after a treatment session; however, further smoothing should become visible over the following 3 to 5 days.
Although BOTOX will prevent muscles from contracting to cause wrinkles, when a skilled facial plastic surgeon administers it, it should not limit your facial expressions.
How Long Do BOTOX Results Last?
Improvements can last up to 4 months. However, some patients who use BOTOX regularly may find that they can space out their maintenance treatments beyond that 4-month mark.
A Reputation Built on Results
Just want to let everyone know that I'm a different kind of person. Dr Stratis and Nurse Samantha were...
Dr. Stratis is the best surgeon in Harrisburg. His team and himself went above and beyond to make sure...
I had work done by both Dr's. they are Absolutely wonderful! I could not be any happier with my results...
I had a neck and lower (mini) facelift performed by Dr Gayner 6 weeks ago. I am so pleased with my results…....
Is BOTOX or Dermal Fillers Better?
BOTOX and dermal fillers each have an important role in reducing wrinkles and smoothing out facial lines and folds. The option that is better for you is the one that addresses your unique aesthetic needs. BOTOX diminishes "dynamic wrinkles," which are facial lines caused by repeatedly making facial expressions such as smiling, squinting, and frowning. These expression lines show up as crow's feet, worry lines between the eyebrows, and forehead lines. Dermal fillers are an excellent choice if your skin lacks elasticity or volume, creating smile lines, hollow cheeks, thin lips, or sunken areas under the eyes.
Options Beyond BOTOX Cosmetic
DAXXIFY™ and

DYSPORT®
You may also want to talk with Dr. Gayner about DAXXIFY or Dysport, more recent alternatives to BOTOX. Like BOTOX, DAXXIFY and Dysport are quick, nonsurgical injections that can be performed right in our office, and they use the same active ingredient (botulinum toxin type A). However, they are different in several key ways: 
DAXXIFY lasts longer than BOTOX, generally

providing

results for 6 to 9 months.

R

esults a

ppear within 1 to 2 days after treatment.

Dysport s

preads

farther from the injection site, which makes it well-suited for treating larger areas such as the forehead

.

It also provides results more quickly

than BOTOX

.
DERMAL FILLERS
Soft tissue or dermal fillers are also injectable wrinkle treatments, though they provide instant results by physically filling in wrinkles from the dermis layer just beneath the surface of the skin—as opposed to BOTOX and Dysport, which temporarily relax facial muscles.
There is also a range of dermal fillers on the market to choose from, each having its own specific active ingredient. At Stratis Gayner, we strive to provide our patients with several options they can choose from, so they can make the best possible treatment decisions for themselves. The dermal fillers we offer include the popular hyaluronic acid-based JUVÉDERM line, which includes:
VOLUMA to add volume to the cheek area
VOLBELLA to smooth out wrinkles around the mouth and subtly augment the lips
JUVÉDERM XC to reduce the appearance of nasolabial folds, marionette lines, and other wrinkles
We also carry injectables in the RADIESSE®, Sculptra®, andRestylane® product lines.
Dr. Gayner can perform BOTOX or Dysport treatments along with dermal filler treatments for an overall facial rejuvenation. He is experienced using a variety of nonsurgical treatments and can help guide you in your choice. In fact, Dr. Gayner often combines these facial rejuvenation techniques to create unique and customized non-surgical facelift packages, also known as a liquid facelift, for patients who would rather not undergo surgical procedures, but still want the most balanced, natural-looking results possible.
MORE PERMANENT OPTIONS
Although BOTOX and Dysport treatments can provide beautiful results without surgery or downtime, the benefits are temporary. Dermal fillers can last longer depending on the brand used, but their results are also not permanent.
If your goal is to change deeper creases and fix sagging facial contours, you may want to consider Dr. Gayner's surgical procedures, such as a facelift or eyelid surgery.
A Custom Package Designed Just for You
If you are looking to create a package that's tailored to your specific facial concerns and desired results, Dr. Gayner would be happy to meet with you personally for an evaluation and discussion of your cosmetic goals.
BOTOX FAQ
What's the right age to start getting BOTOX injections?
The "right" age to start BOTOX depends on your cosmetic goals. People in their 20s and 30s receive these treatments proactively to prevent dynamic wrinkles from forming. It's an excellent facial rejuvenation treatment for people in their 40s and up who have frown lines, crow's feet, and other creases caused by repeated contractions of facial muscles.
Is there any way to make results last longer?
Consistent treatments can sometimes help patients extend the life of their results; however, BOTOX usually lasts up to 4 months.
Is it safe to get this treatment when pregnant or breastfeeding?
The safety of BOTOX is inconclusive during pregnancy and breastfeeding, so we do not offer these treatments to women if there's a possibility of affecting their children.
Will BOTOX make you look older when it wears off?
It may seem that way because lines and wrinkles gradually develop when BOTOX wears off—just as they would if you didn't have the treatment at all. It hasn't been found to accelerate the aging process.
Can BOTOX help refine the jawline?
When injected into the masseter muscles of the jaw, BOTOX temporarily relaxes them to provide jawline contouring (masseter reduction) and effective treatment of TMJ.
Is there anything I should avoid after treatment?
While no downtime is required after BOTOX treatments, for optimal results, we recommend the following precautions:
Don't rub or put pressure on the injection sites for the rest of the day.
Keep your head upright for 4 hours.
Hold off on vigorous workouts until the next day.
Stay out of direct sunlight or heat for 24 hours.
To learn more about BOTOX Cosmetic and other nonsurgical methods to reduce the signs of aging, request a consultation with Dr. Gayner using the online form or call our office at (717) 728-1700.
Back to Top