Stratis Gayner Plastic Surgery
10 Capital Drive #100
Harrisburg, PA 17110
Phone: (717) 728-1700
Tuesday, Thursday: 8 a.m.–4 p.m.
Wednesday: 8 a.m.–5 p.m.
Friday: 8 a.m.–3 p.m.
Phones are open 8 a.m.-5 p.m. every day

Dr. Scott M Gayner
Dr. Scott Gayner is one of the premier facial plastic surgeons in Harrisburg and Lancaster, PA, and surrounding communities. His innate artistic sensibilities coupled with his exceptional credentials and years of experience have helped hundreds of patients enjoy a beautiful, natural look. A trustworthy and caring surgeon, Dr. Gayner is intently focused on his patients' needs and comfort. His philosophy of care is simple: "I will always treat my patients with kindness and respect and provide 1-on-1 attention in an unhurried, trusting environment."
If you are looking for a skilled and respected facial plastic surgeon in Pennsylvania, Dr. Gayner wants to speak with you. To learn more about Dr. Gayner's face-focused work, request a consultation with him online or call his office at (717) 728-1700.
Education & Training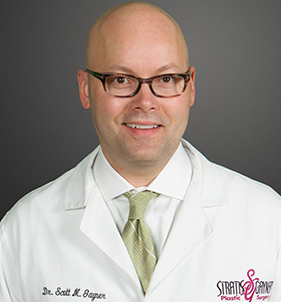 Even as a child, Dr. Gayner demonstrated outstanding manual dexterity. He was particularly good at building model cars, which requires a great amount of patience and precision. After receiving his bachelor's degree in chemistry from Miami University in Oxford, Ohio, Dr. Gayner completed medical school at the Medical College of Virginia. There, he became fascinated with the anatomy and physiology of the head and neck, which led to him becoming a facial plastic surgeon.
After medical school, Dr. Gayner completed more than 6 years of advanced surgical training. He served a general surgery internship and a residency in otolaryngology at the esteemed Mayo Clinic in Rochester, MN. This was followed by a fellowship in facial plastic surgery at University of Cincinnati in Ohio. To learn more, visit Dr. Gayner's Training & Credentials page.
Certification & Memberships
Dr. Gayner is certified by both The American Board of Facial Plastic and Reconstructive Surgery and The American Board of Otolaryngology (head and neck surgery). He is a member of The American Academy of Facial Plastic and Reconstructive Surgery, American Academy of Otolaryngology, Alpha Omega Alpha Medical Society, Pennsylvania Medical Society and Dauphin County Medical Society.
Ask Us About Face Procedures
Appointments
Dr. Gayner serves on the active surgical staff at Holy Spirit Hospital and Capital Surgery and Laser Center.
A Leading-Edge Surgeon
Dr. Gayner is respected among his peers for his professionalism and his expertise in modern facial rejuvenation techniques. He is experienced in all aspects of facial plastic surgery, including nose surgery, eyelid lifts, ear surgery and facelifts. His specially developed face lift approach requires shorter incisions than traditional methods, which translates into less noticeable scarring and reduced downtime.
Dr. Gayner also offers several nonsurgical procedures, including dermal fillers such as JUVÉDERM® and SCULPTRA®. He also provides Ultherapy™ for non-surgical skin tightening on the face and neck. This revolutionary treatment uses ultrasound energy to tighten and lift the skin and underlying tissue.
Personal
Dr. Gayner enjoys spending his free time with his wife and their 2 sons. Dr. Gayner is a volunteer for his sons' various sports leagues.
"I believe that my patients deserve care that is uncompromising, every step of the way," Dr. Gayner says. "Taking the time to understand your cosmetic desires helps me customize your treatment to meet your individual needs."
To meet personally with Dr. Gayner to discuss your aesthetic concerns, request a consultation using the online form or call our office directly at (717) 728-1700 to schedule an appointment.
A Reputation Built on Results
Just want to let everyone know that I'm a different kind of person. Dr Stratis and Nurse Samantha were...
Dr. Stratis is the best surgeon in Harrisburg. His team and himself went above and beyond to make sure...
I had work done by both Dr's. they are Absolutely wonderful! I could not be any happier with my results...
I had a neck and lower (mini) facelift performed by Dr Gayner 6 weeks ago. I am so pleased with my results…....
Back to Top