Stratis Gayner Plastic Surgery
10 Capital Drive #100
Harrisburg, PA 17110
Phone: (717) 728-1700
Tuesday, Thursday: 8 a.m.–4 p.m.
Wednesday: 8 a.m.–5 p.m.
Friday: 8 a.m.–3 p.m.
Phones are open 8 a.m.-5 p.m. every day

SculpSure®
Many Lancaster County patients come to our Harrisburg, Pennsylvania, practice seeking a flat stomach and slim waistline, and they find a convenient solution in SculpSure®treatments. Men and women frustrated by love handles and muffin tops see these stubborn areas become toned after only 1 or 2 treatments with this noninvasive procedure. There is no downtime following Sculpsure®, making it an attractive liposuction alternative.
Harrisburg, Lancaster, and central Pennsylvania residents choose Stratis Gayner Plastic Surgery for advanced body contouring treatments such as Sculpsure®.
To meet with Dr. John Stratis and learn more about the procedure, Request a consultation using our online form or call our office at (717) 728-1700 to schedule an appointment.
How SculpSure® Works
SculpSure® is an FDA-cleared, noninvasive body contouring treatment that uses laser energy to melt fat cells without damaging the skin. It injures fat cells by heating them to a target temperature, and then the body's immune system gradually removes the damaged cells. Clinical trials showed that SculpSure® destroyed as much as 25% of fat cells in the treatment area, similar to CoolSculpting®.
Candidates for SculpSure®
You're a good candidate for SculpSure® treatments if you're in generally good shape and lead a healthy lifestyle, but still struggle with unwanted fat in the abdominal area and flanks. It's also best if your skin retains most of its elasticity so that it will "bounce back" to fit your new, slimmer contours after the treatment.
The heat used during SculpSure® may result in some skin tightening, but patients with sagging skin may benefit more from tummy tuck surgery. For patients who want more fat removed than is possible with a noninvasive treatment, we may recommend liposuction.
The Procedure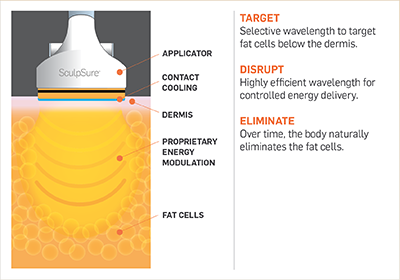 SculpSure® is often compared to CoolSculpting® because both are noninvasive fat reduction treatments that produce similar results. CoolSculpting® uses cold temperatures to "freeze" fat cells, while SculpSure® is a laser treatment that destroys fat with heat.
The SculpSure® procedure is a bit different than what occurs during CoolSculpting® for the midsection. SculpSure's® applicators are placed flat on the treatment areas and don't pull or suck the bulging area up between plates, as CoolSculpting® does. The laser energy penetrates the tissue, heating the fat cells to a carefully monitored temperature.
The procedure itself takes only about 25 minutes. A CoolSculpting® treatment for the same areas takes approximately 60 minutes. SculpSure® involves little to no discomfort and doesn't require an anesthetic.
What Our Patients Are Saying
"I had a wonderful experience at Stratis Gayner and would recommend them to anyone. I loved that the staff was friendly and made me feel comfortable in an awkward situation. I called several times with questions and never felt like I was bothering anyone. And best of all, I have an excellent result that is very natural. Thanks a bunch."
Recovery & Results
There is no downtime or recovery after the treatment. Because the SculpSure®procedure is noninvasive, you can return immediately to work or other normal daily activities. Results will be seen 12 weeks after treatment, but you may start to see some changes at the 6-week mark. The key is to be patient and not expect to see any change for at least 6 weeks.
A Reputation Built on Results
Dr. Gayner is a phenomenal surgeon. My rhinoplasty was even better than I hoped, and the entire process...
I had lower eye lid surgery and I'm very pleased with the results. I would definitely recommend Dr....
Dr Gayner is amazing at botox and Daxxify injections. Listens to your concerns and trouble areas and...
Best self-care investment that I have ever made. Dr. Gayner calmed my nerves, explained the procedure...
Back to Top