Stratis Gayner Plastic Surgery
10 Capital Drive #100
Harrisburg, PA 17110
Phone: (717) 728-1700
Tuesday, Thursday: 8 a.m.–4 p.m.
Wednesday: 8 a.m.–5 p.m.
Friday: 8 a.m.–3 p.m.
Phones are open 8 a.m.-5 p.m. every day

CoolSculpting®
Since we first began offering CoolSculpting at our Harrisburg, PA, practice, the nonsurgical fat reduction procedure has become one of the most popular treatments for both women and men. That's because it can target unwanted pockets of fat in virtually every area of the body, including love handles, thighs, upper arms, and the neck. Stratis Gayner Plastic Surgery was the first plastic surgery practice in Pennsylvania to offer this innovative new treatment, a reflection of our ongoing commitment to provide our patients the most advanced treatments and technology available.
How Does CoolSculpting Work?
To understand how CoolSculpting destroys fat, it is important to understand how fat cells work—and the limited effects dieting and exercise have on them.
A balanced diet and exercise are essential to a healthy lifestyle and are our first line of defense against unwanted fat. But while these measures can reduce the size of fat cells, they cannot actually make them go away. This is often why those stubborn little pockets of fat, such as love handles and back fat, can remain even on the fittest of individuals.
The only way to get rid of fat cells is to physically eliminate them, and this is exactly what CoolSculpting does. Based on the principle of Cryolipolysis® , or "fat freezing," the CoolSculpting device safely delivers precisely targeted and controlled cooling to safely freeze the fat cells of the pocket, while leaving all other non-fat tissues in the treatment area unharmed. The fat cells in the treated areas are more vulnerable than skin and other tissues and can be destroyed by the freezing temperatures. These cells crystallize and die. Over time the body processes these dead cells and flushes them out, leaving a more sculpted and toned area.
It is important for patients to understand that CoolSculpting is simply a body contouring treatment designed to reduce isolated pockets of fat. It is not to be used as a treatment to combat overall excess weight or obesity and will not result in significant weight loss.
While the fat cells that CoolSculpting destroys are physically eliminated from the body, existing fat cells can still store fat and increase in size. The results of CoolSculpting are long-term, and can be permanent if the patient is also committed to sustaining a healthy, balanced lifestyle.
The Right Surgeon
for Any Body
Board-certified plastic surgeon Dr. John Stratis specializes in breast and body procedures is a leader in modern body contouring methods.
Read More
Which Areas of the Body Can CoolSculpting Improve?
The areas for treatment that CoolSculpting can improve include:
A protruding stomach
Love handles or muffin tops at the flanks or sides of the torso
Fat that bulges outwards at the hips and outer thighs
Back fat, which often becomes more pronounced while wearing a bra or other clothing
Fat that rubs together at the inner thighs
Fat deposits on the upper arms
Fat below the chin
What to Expect from a CoolSculpting® Treatment Session at Stratis Gayner
The consultation provides a time for you to ask Dr. Stratis questions about the procedure and to describe your cosmetic concerns. During the CoolSculpting procedure, cooling panels are placed over the treatment area. CoolSculpting applicators are designed for specific areas, but all of them deliver controlled cooling to "freeze" the area.  Patients typically experience an intense cooling sensation at first, but they adjust to this quickly and the rest of the procedure is spent in relative comfort. A staff member monitors your progress throughout the treatment session.
Patients can read, work on their laptop, or even take a nap, as CoolSculpting does its work. The carefully aimed device initiates the Cryolipolysis process to selectively destroy fat cells. The cells destroyed during a treatment session are gradually removed through the natural elimination process of the body. Because Cryolipolysis is so targeted and the temperature is set to the specific freezing point of the fat cells, the skin and other tissues in the treatment areas are not damaged.
Each CoolSculpting treatment session is between 1 to 2 hours long, during which most patients experience little to no discomfort.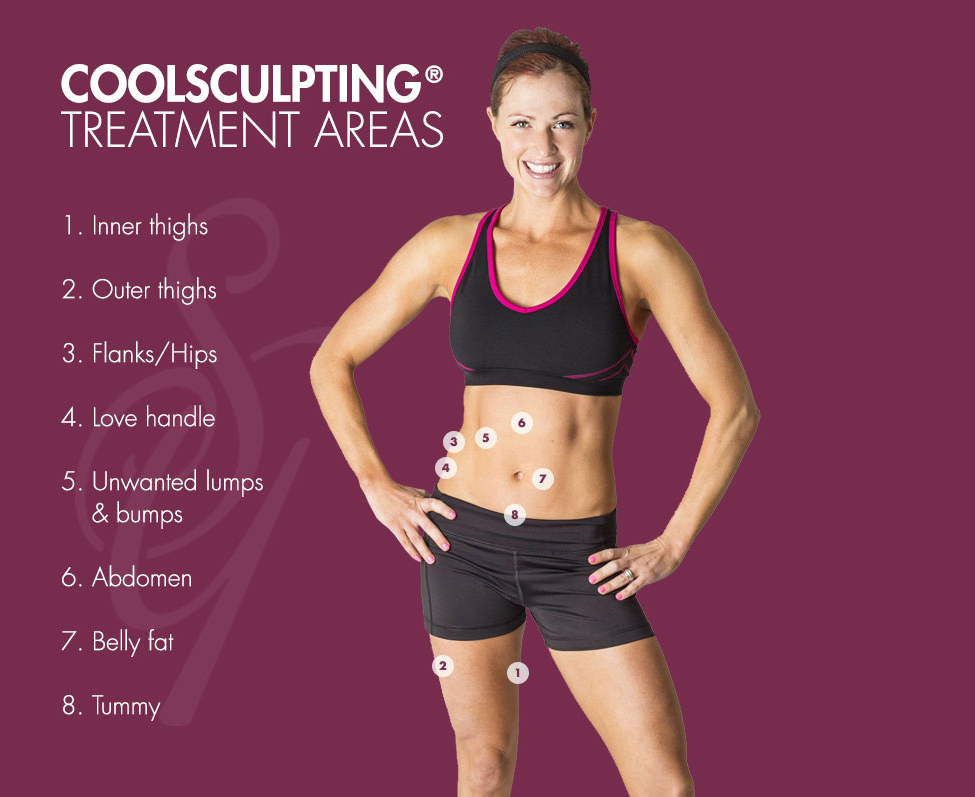 CoolSculpting can help patients get customized results, such as (1) reducing submental fat under the chin, (2) getting rid of horizontal fat on the sides, (3) eliminating pinchable fat that causes love handles at the waist, (4) evening out fat-based irregularities, (5) de-bulking significant amounts of fat in a larger area, (6) slimming down belly bulges, and (7) sculpting tissue to better reveal underlying contours. *Patient results may vary.
Recovery and Results
Patients may return to their usual activities immediately—there is absolutely no downtime required after a CoolSculpting treatment session.
While there may be some redness, tenderness, swelling, or tingling in the treated areas, these are temporary side effects that resolve on their own within a few hours (although some of the redness may take up to 2 weeks to fade away).
The results appear gradually, beginning to show approximately 3 weeks after the treatment session, with full results appearing after 2 months. Under some circumstances, an additional treatment may be necessary after several months to achieve the best possible results.
Cleared by the FDA for nonsurgical fat reduction, CoolSculpting can reduce the fat layer by 20 percent on average. The treated fat cells are destroyed, so long-term results may be achieved. Maintaining a healthy lifestyle with proper diet and exercise will help ensure that your newly sculpted and toned look lasts for as long as possible.
Alternatives to CoolSculpting
Just as fat cells are vulnerable to the cold, they are also impacted by heat. During your consultation for fat reduction at our Harrisburg location, you may also want to ask Dr. Stratis about SculpSure®, another non-invasive body contouring treatment that uses laser energy to heat and melt away fat.
While CoolSculpting and SculpSure are gentle and effective ways to lose inches, these temperature-based treatments cannot achieve the same results as liposuction or a tummy tuck surgery and take a certain period of time to gradually take effect and display the final results.
Liposuction provides more dramatic, immediate improvement. The surgical procedure can also be used to treat areas that are not appropriate for CoolSculpting.
Dr. John Stratis performs CoolSculpting®, liposuction, and other body contouring procedures, and will explain all of the options available to you. Request a consultation using the online form or call us directly at (717) 728-1700 to schedule an appointment.
A Reputation Built on Results
I had a neck and lower (mini) facelift performed by Dr Gayner 6 weeks ago. I am so pleased with my results…....
Dr. Gayner has a phenomenal injection technique for neurotoxins and dermal fillers, and I barely felt...
Dr. Gayner is a phenomenal surgeon. My rhinoplasty was even better than I hoped, and the entire process...
I had lower eye lid surgery and I'm very pleased with the results. I would definitely recommend Dr....
Back to Top